Simpsons Roasting on a Open Fire is a Simpsons Christmas Special and the first ever episode of the animated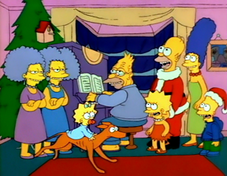 televison series the Simpsons. It Aired on December 17th, 1989.
The episode was written by Mimi Pond and directed by David Silverman. The title alludes to "The Christmas Song", also known as "Chestnuts Roasting on an Open Fire". "Simpsons Roasting on an Open Fire" was nominated for two Emmy Awards in 1990, and has received positive reviews from television critics. It was viewed by approximately 13.4 million viewers in its original airing.
After attending the Springfield Elementary School pageant, the Simpsons prepare for the holiday season. Marge asks Bart and Lisa for their letters to Santa. Lisa wants Santa to bring her a Pony , while Bart requests a Tatoo. The next day, Marge takes the kids to the mall to go Christmas shopping. Bart slips away to the tattoo parlor and attempts to get a tattoo that reads "Mother". With the tattoo partially completed, Marge bursts in and drags Bart two doors down to the Dermatologist to have it removed. Counting on Homers Christmas bonus, Marge spends all of the family's holiday money on the procedure. Meanwhile, at the Power Plant Homer's boss Mr Burns, announces that there will be no Christmas bonus this year.
Homer, discovering there is no money for Christmas presents and not wanting to worry the family, takes a job as a shopping mall Santa Claus at the suggestion of his friend Barney Gumble. On Christmas Eve, Bart goes to the mall and harasses Santa, exposing Homer's secret. After Homer is paid Less than expected for his Santa work, he and Bart receive a hot dog racing tip from Barney.
At Springfield Downs, Homer, inspired by an announcement about a last-minute entry named Santas Little Helper, bet all his money on the 99-1 long shot. The Greyhound finishes last. As Homer and Bart leave the track, they watch the dog's owner abandon him for losing the race. Bart pleads with homer to keep the dog as a pet, and he reluctantly agrees. When Bart and Homer return home, Homer attempts to come clean to the family, but all is forgiven with the arrival of Santa's Little Helper who is assumed to be a Christmas present for the whole family
Characters First AppearingEdit
Videos And PicturesEdit
Ad blocker interference detected!
Wikia is a free-to-use site that makes money from advertising. We have a modified experience for viewers using ad blockers

Wikia is not accessible if you've made further modifications. Remove the custom ad blocker rule(s) and the page will load as expected.